Both Abby and Micah loved the tea party yesterday! When Daddy got home one of the first things Abby had to tell Daddy about was the tea party that the elf had set up! Ya'll already saw that Micah climbed right up and joined in!
Good morning Abby and Micah!
I enjoyed watching the Veggie Tale's Christmas movie with you yesterday! I'm so excited for Christmas... are you?
Here is the next part of our story:
The wise men soon started on a very long journey, watching and following the star every night. They came to the great city of Jerusalem. They asked about the new ruler but they were told to go on.
Here's the hint for where you can find me today:
I love all your Christmas decorations but since I wasn't here to help you decorate your tree I decided to decorate my own. I borrowed some of your favorite ornaments - I hope that's okay! I can't wait for you to see my tree!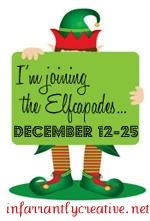 {Letter & idea slightly adapted with permission from
Infarrantly Creative}