Good Morning Abby and Micah. I have officially been at your house for one week. I like living at your house. I only have one more week left and then it is Christmas and I have to go back to the North Pole and you get to celebrate Jesus' birthday! I will miss you very much..
Here is the next part of the story...
The shepherds ran to Bethlehem. They soon found the stable. They went and knelt down in front of the baby. They told Mary what the angel had said. Then they went out and told everyone they met about Jesus.
I made a big mess last night. I tried to be helpful and wrap some presents but that wrapping paper just got everywhere!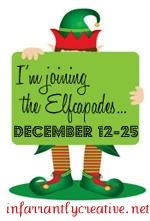 {Letter & idea slightly adapted with permission from
Infarrantly Creative}