Abby was quite amused by the "snow" angels Rudolph made in the flour yesterday. Though I think she would have laughed at the silliness of it a little more if she had ever seen snow stick to the ground. The snowflakes we got
last year
are her only experience with snow so far.
Here's the note Rudolph left for the kids this morning:
I didn't realize that was flour and not snow! How silly of me. No wonder it wasn't as cold as the snow in the North Pole!
Ok I am going to tell you a little bit more of the story of baby Jesus and then I will give you the clue...
After baby Jesus was born there was some shepherds looking after their sheep on the hills near Bethlehem. Suddenly the sky shone bright with light. Don't be scared, said an angel, "Go to Bethlehem, there you will a baby who is Christ the Lord."
Here is the hint for the day...
I like things that are shiny and bright with lights. I am up really high. Can you find me?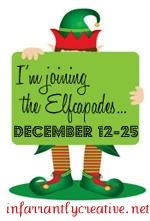 {Letter & idea slightly adapted with permission from
Infarrantly Creative}