If you couldn't tell yesterday from my very blurry picture Rudolph the elf was hanging upside down from the ceiling fan and would spin round and round when the fan was on. The kids thought this was the coolest thing ever trying to 'catch' him and watch him spin around. He spent most of the day on the fan but has since moved to to make more mischief in our house.
The note he left for the kids this morning:
I saw ya'll made some gingerbread cookies yesterday. They look so yummy! The snowflakes remind me of back home at the North Pole where it snows!
I really miss the snow at the North Pole. But then I looked in your pantry and saw that you had some snow for me to play with. So I made some snow angels for you. I can't wait for you to see them.
But first here is more of my story that I came to tell you...
That night Mary's baby was born. She washed him and put him in the clothes she had brought. Joseph made a bed for him in a manger, full of hay. Mary laid him gently in it. She called her new son Jesus.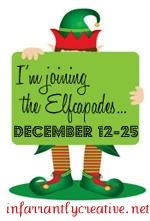 {Letter & idea slightly adapted with permission from
Infarrantly Creative}