Here's the note Rudolph left for Abby and Micah today:
Did you enjoy seeing all your toys in the doll house yesterday? I had so much fun with all your toys - if I only I had been able to fit inside the doll house as well!
Here's the hint for where you can find me today. I'm a little dizzy and hanging upside down, spinning round and round. Find me quick!
But before we do let's continue on with the story. Of the birth of Jesus...
Mary and Joseph are in Bethlehem and it is very crowded. All the rooms were taken. At last they found a stable and Joseph made a bed out of hay for Mary. There was animals all around them. I bet it was stinky in there. What do you think? Mary and Joseph started preparing for baby Jesus to be born.
I think this was maybe by far the favorite place Rudolph (it's stuck - Abby hasn't tried to change his name at all!) has been found so far. I have to say this is by far the worst picture though - no light and kids that were trying to catch an elf that was spinning around. I think it captures their excitement though? Maybe?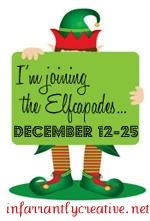 {Letter & idea slightly adapted with permission from
Infarrantly Creative}