I'm so happy you enjoyed seeing that I played with your horses last night! I heard that you are learning about Elves and the letter E at school this week! I love the E-elf picture that you brought home from school!
I'm having so much fun at your house! You have the coolest toys! Last night I got in a little trouble. I invited all your babies and animals to join me for a little party but we couldn't all fit. Can you come find me?
But wait. Before you find me. I have to tell you more of the story...Do you remember what part of the story we left off at from yesterday?
So Mary and Joseph became husband and wife. They had to go register for their taxes. Back then they did not have cars. So Mary and Joseph loaded all their stuff up and rode a donkey into town. They took food with them and clothes for the baby. The long journey lasted days and they walked most of the way. When they reached Bethlehem it was full of people and Mary and Joseph could not find anywhere to sleep.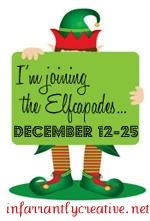 {Letter & idea slightly adapted with permission from
Infarrantly Creative}