As I said yesterday Abby loved seeing the elf show up yesterday. Here is the note the elf has left for Abby and Micah this morning.
I had such fun meeting you both yesterday! Thanks for sharing your cheerios with me yesterday!
I really enjoyed watching you play with your toys. I thought it looked so fun that last night I decided to play with them as well. I especially loved all the horses you have to play with. They remind me of the reindeers back in the North Pole that Santa uses to pull his sleigh to bring all the presents to the good girls and boys.
Before you come to find me let me continue with our story...
Mary was nervous about being a mom but she trusted in God. She was going to get married to a man named Joseph. He was a carpenter, that means he built tables and chairs out of wood. She told him about seeing the angel Gabriel and what he told her about the baby in her belly. Joseph was confused. Then he had a dream when he was sleeping one night. In his dream God told him that what Mary was saying was the truth. So Joseph trusted God that he should have Mary be his wife and be Jesus' daddy here on earth.
And here is where our Elf (who Abby decided should be named Rudolph - we'll see if it sticks!) was found this morning.
Abby loved that he was on her horse and that he had lined up all her ponies. She thought it was the coolest thing ever!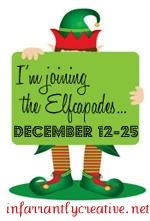 {Letter & idea slightly adapted with permission from
Infarrantly Creative}