Good morning Abby and Micah!
Today is my last day at your house. I'm very sad to leave ya'll but I have to go help Santa deliver all the presents! Maybe next year at Christmas time Santa can send me back to your house? What do you think about that?
Do you remember what I told you was the reason why I came to visit you? It wasn't just for all the fun and hiding. It was to remind you about the birth of Jesus and to remember to keep Jesus as the focus this season. I know it is hard with all the presents, cookies and decorations. But it really is all about Jesus' birthday and the gift that He is to all who believe.
Let's try and memorize a verse about the story of Jesus.
"God loved the world so much that He gave His only Son." John 3:16
Do you think you can memorize that Abby?
You need to come find me quick. I am cold. Brrrr! I accidentally fell in my water. Where am I?
Today was the last day and I failed to get a picture of the elf before he was rescued from falling in his water glass in the fridge. Oops - fail!
(The verse is the same as the one that Abby has been learning this month in both Bible class on Saturday and Sunday nights and in preschool)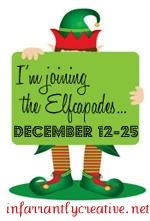 {Letter & idea slightly adapted with permission from
Infarrantly Creative}