Good morning Abby and Micah!
I enjoyed watching you play with your friends yesterday morning! It looked like ya'll had a lot of fun! It reminds me of all my elf friends back at the North Pole.
Here's the next part of the story...
One night Joseph had a dream. An angel warned him that Jesus was in great danger. Mary, Joseph and Jesus left Bethlehem at once and after a long journey to Egypt they reached their home in Nazareth, safe at last.
Here's the hint for today:
Since I won't be at your house too much longer I really wanted to sleep in your bed. It just looks so comfy. So I snuck in your room to rest my little head. Come find me!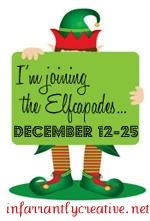 {Letter & idea slightly adapted with permission from
Infarrantly Creative}