Yesterday the kid were in love with the fort - they played in it until it fell down during breakfast. Then they just used the pile of pillows to jump all over!
Hi Abby and Micah! I only have a few more days left before Jesus' Birthday. This means that I will have to leave to go back to the North Pole. Santa will bring you both a few gifts and he will take me home with him. I will be sad and will miss you but I am excited to get back to my elf friends also.
Here is more of the story...
The wise men brought Jesus three gifts. They brought him gold, frankincense, and myrhh. Then the wise men left and went back to their own country knowing that they had seen the child that would one day save all people.
And the
hint
for the day...
I was thinking about the North Pole last night and missing the snow. It's so warm here nothing at all like the snow back home. I tried to teach your friends about snow and we ended up having a snowball fight. There were so many of them that I think I lost.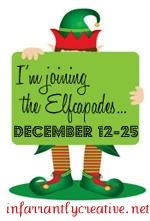 {Letter & idea slightly adapted with permission from
Infarrantly Creative}