Last year for Christmas Uncle Jeremy gifted our family this adorable Elf on a Shelf. I came across this blog -
Infarrantly Creative
which uses a different type of elf but she uses the elf to tell the real Christmas story - the Birth of Jesus. So last year since we got the elf just a few days before Christmas and we were traveling to visit family we didn't go all out with him. This year I'm planning to have a lot of fun with our little elf. He arrives this morning to visit the kids and is already up to mischief. The trip from the North Pole left him a little hungry so he decided to get some breakfast while he waited for the kids to get up this morning.
He also brought a little note to Abby and Micah as well:
Santa heard that you were reading a story about his elves last night. And guess what? HE SENT ME! Santa heard you have been a good girl and boy this year and he can't wait to bring you presents on Christmas Day. In fact, I even helped Santa in his shoppe to make your toys!
The reason he sent me was to remind you the true meaning on Christmas – the birth of Jesus. So everyday I am going to tell you a little bit more of the story of Jesus.
During the day I'll watch ya'll play. Then before bed sprinkle me with the North Pole Snowflakes so I can travel back and report to Santa. Also don't forget to leave me some crackers and water at night. That is what us elves eat. Why crackers and water, you might wonder? The crackers sound like crunching snow, and the water is melted North Pole Snowflakes.
At night I get a little crazy and I will do fun things all over your house. I might even leave you some gifts or candy. It will be such fun for you to find me every morning. It is kind of like hide-n-seek. And I KNOW YOU LOVE hide-n-seek.
Oh I almost forgot...let's begin the story....
Once upon a time, a long, long time ago there was a girl named Mary. God loved her very much. He sent an angel to visit her. The angels name was Gabriel. She was scared at first but then Gabriel said not to be afraid because He was sent from God. Then he told her she had a baby in her belly that she was supposed to name Jesus.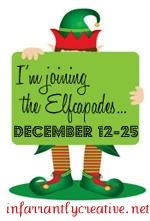 {Letter & idea slightly adapted with permission from
Infarrantly Creative}